Malawi Peanut Sheller
Mchinji district, Malawi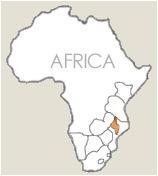 The need was for a peanut sheller that will help the smallholder peanut (groundnut) farmers of Malawi rise above subsistence farming and help to prepare for an export market. Currently the shelling is done by hand; after 5 days of hand-shelling, you get terrible blisters and basically have to stop. It also causes hygiene issues around handling peanuts with toxins (aflatoxins) caused by soaking the shells in water first to soften.
The idea was to fund a mobile peanut sheller that NASFAM will take around the district so the smallholders can bring their harvest to process quickly and efficiently, as well as incent them to grow more peanuts to revive the export market. Also, close to our hearts, this will especially help women, who due to the ravages of HIV/AIDS in Malawi, find themselves as the main caregivers and wage-earners for extended families. Peanut is seen as a "woman's crop" as women grow it to feed their families, so by extension with the peanut sheller in place, will be able to grow more to sell. The peanut sheller will be able to handle 32 metric tons in an 8 hour day, and cuts in half, at least, the shelling costs. The shells are made into bricks for firewood and given back at no charge to the farmer, which hopefully will help stem the deforestation occurring for firewood.
This project evolved over 2007, as we got our hands around completing our first project in mid-2007, the day care centre in the Philippines. The opportunity to help was a group effort brought to us by Simon Wright who had worked with Andrew Emmott at Twin on a similar project previously. The actual doing is being done by NASFAM on the ground in Malawi, headed by Joshua Varela, General Manager, NASFAM Commercial, and Kate Dresser, Organisational Development & Funding Advisor, NASFAM.
Yellow Flower Foundation started the project overview and educational phase in mid-2007. We were able to take advantage of a November visit to the UK by Joshua and Kate to meet with them, along with Andrew and Simon in London.
The project plan and proposal documents were prepared by NASFAM, the funding in place by March 2008 and the peanut sheller was operational by the harvest season starting in May 2008.